EMIMEO has been selected by the European Commission in the framework of the Erasmus Mundus Joint Master Degree (EMJMD) 2018 call.
The project's partners are the University of Limoges (UNILIM, France), the University of Brescia (UNIBS, Italy), the Aston University (UK), and the University of the Basque Country (UPV/EHU, Spain). The associate partner University of Cluj-Napoca (Romania) will also contribute to the learning programme. A panel of 15 industrial Associated Partners, including SMEs, large accompanies and associations, will support the EMIMEO programme through concrete contributions and will constitute an effective network for Master's theses with the prospect for future career development.
EMIMEO project is one of these educational projects which will boost the attractiveness of science, technology and engineering.
In a context of an increasing demand of research and industrial applications around these topics, EMIMEO Masters is a concrete solution to improve the number of highly qualified students for feeding the research labs and for meeting the demand of the industrial sector. EMIMEO is a thoroughly integrated programme with a jointly developed curriculum. Areas covered range from the fundamentals of microwave electronics and photonics to their implementations with new technologies in wired and wireless communications, moving from components to system architectures for communication systems and networks.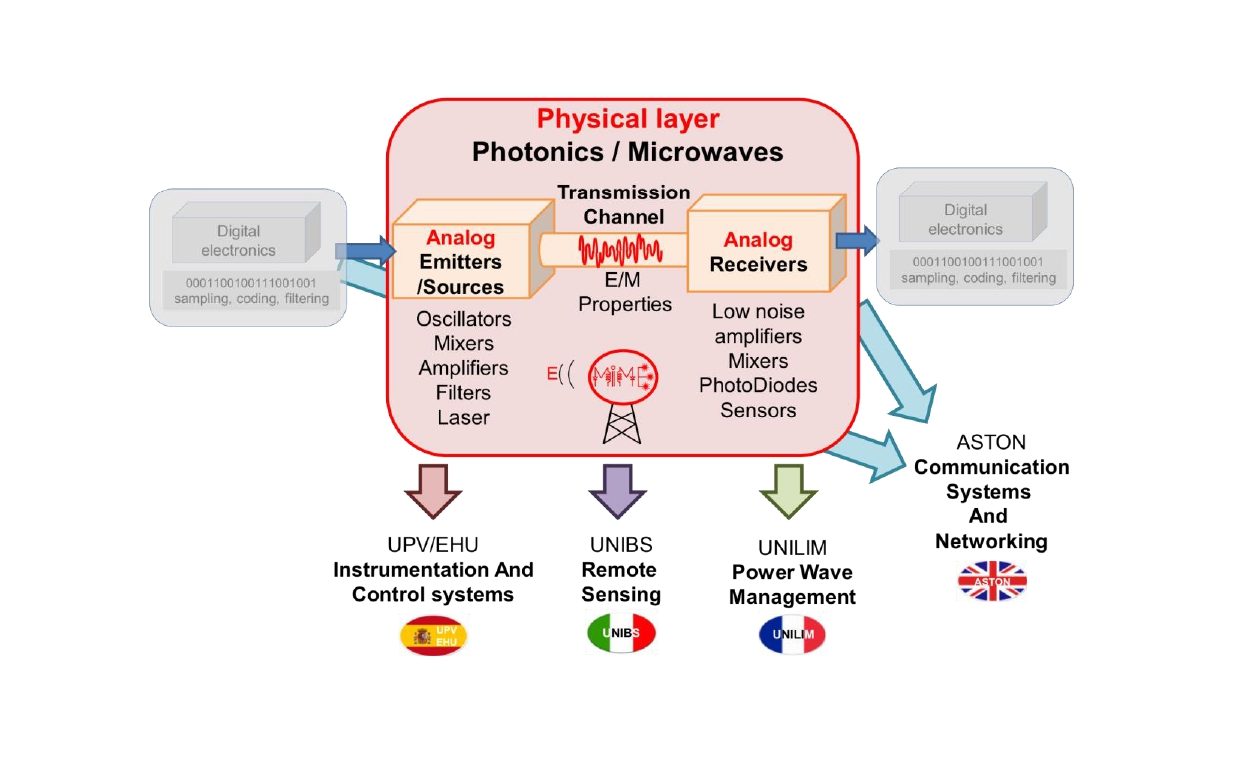 Please refer to the 
Application guide
to create your account and apply online.
For further inducation and help, please contact:
---
Applications for scholarships are now open
---
Deadline

Sunday 15 March 2020
---
EMIMEO strongly increases professional perspectives for the learners.
Training courses for students in microwave electronics and photonics are of fundamental importance to prepare them for the future job vacancies of the next 5-10 years in the following key joint areas.
Among the identified key priorities are networks (energy transports), industrial modernisation (including new technologies, smart grids and digital infrastructures), the potential of clusters for the creation of new ecosystems, and cross-border synergies.
The Photonics Industry Report published in 2013 predicted for the photonics industry a long-term growth (in the period 2011-2020) with an average of 1.5 times the growth rate of the world gross domestic product. According to the forecast, the key technology will reach a world market volume of € 615 billion in 2020, based on a market volume of € 350 billion in 2011. It is therefore evident that research and higher education in the physical sciences and engineering (PSE) have a very high direct impact on the EU economy as the prime drivers for new methods of large data management and communication. PSE covers a wide range of research areas and types of infrastructures in which microwave and photonics are among the key enabling technologies, from advanced international/global experiments addressing fundamental research issues to user intensive facilities for multi-scale investigations of matter and applications. Microwave and photonic technologies are intrinsic elements of the day-by-day operation of a large part of such infrastructures.
---