What is included in the ERASMUS MUNDUS scholarship?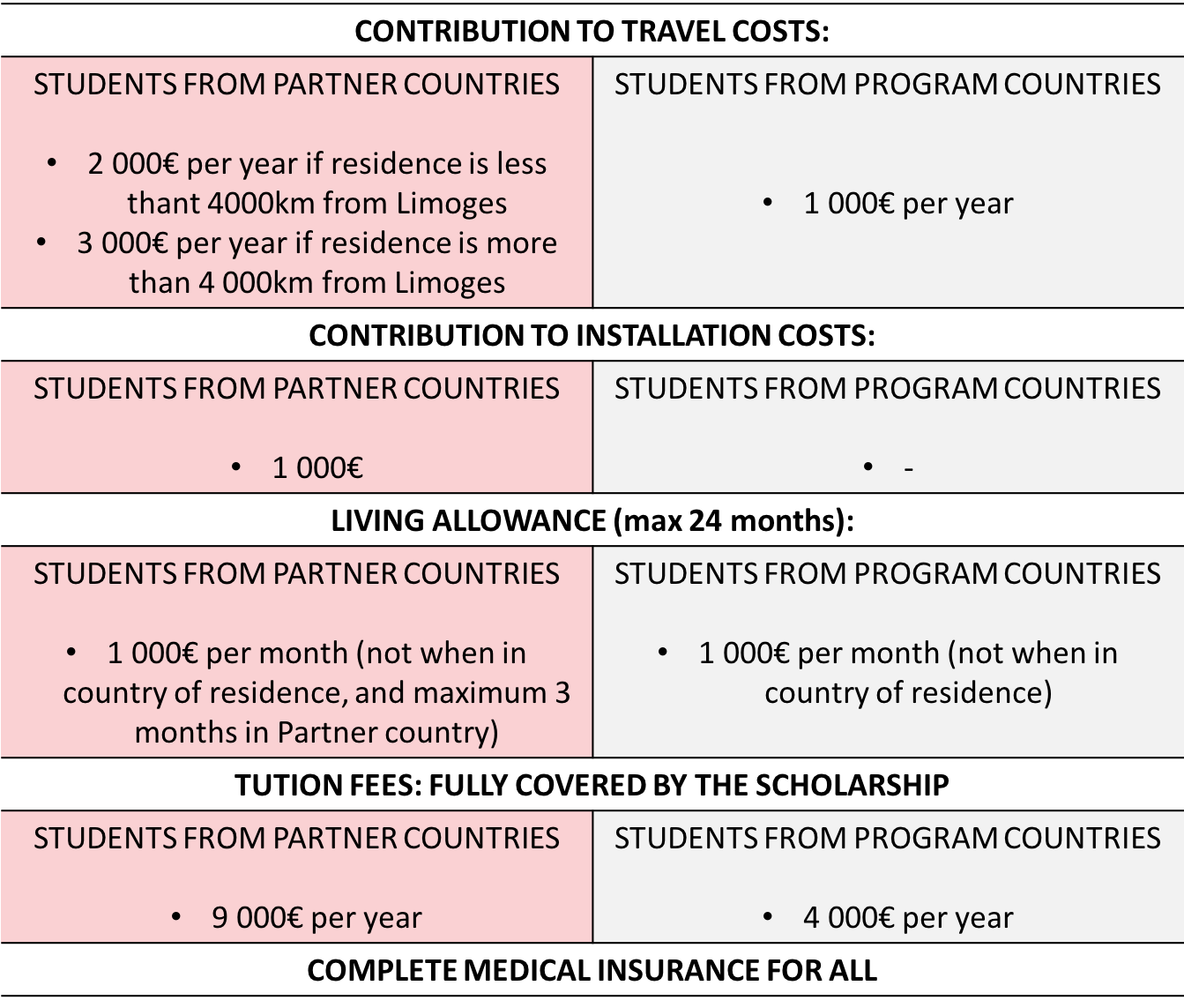 Categories: Erasmus+ EMJMD 2020 student scholarships
The application process will be organised according to applicant categories (please indicate in which of the following categories you apply): Programme countries: scholarship applicants who are nationals of the 27 EU Member States, Iceland, Liechtenstein, Norway, North Macedonia, and Turkey. Partner countries: scholarship applicants from any other country in the world, provided they are not currently residents of these eligible countries (above), nor have carried out their main activity (studies, work, etc.) for more than a total of 12 months over the last five years in one of these countries. Students with a Partner Country nationality who do not fulfil the Partner Country criteria defined above (12-month rule) count as Programme Country students. Students with a double nationality (of Partner and Programme Country) must specify the nationality under which they submit their scholarship application. Please not that scholarship are not given to scholarship holders for the periods (study/research/placement/thesis preparation) spent in their country of residence.
Which countries are eligible?
---
E+ PROGRAMME COUNTRIES
Member States of the European Union (EU)

Non EU Programme Countries

Belgium

Bulgaria

Czech Republic

Denmark

Germany

Estonia

Ireland

Greece

Spain

France

Croatia

Italy

Cyprus

Latvia

Lithuania

Luxembourg

Hungary

Malta

Netherlands

Austria


Poland

Portugal

Romania

Slovenia

Slovakia

Finland

Sweden

United Kingdom

Republic of

North Macedonia

Iceland

Liechtenstein

Norway

Turkey

Serbia
E+ PARTNER COUNTRIES
Western Balkans

(Region 1)

Eastern Partnership
countries
(Region 2)

South-Mediterranean

countries

(Region 3)

Russian Federation

(Region 4)

Albania
Bosnia and Herzegovina
Kosovo
Montenegro
Armenia
Azerbaijan
Belarus
Georgia
Moldova
Territory of Ukraine as
recognised by international
law
Algeria
Egypt
Israel
Jordan
Lebanon
Libya
Morocco
Palestine13
Syria
Tunisia
Territory of Russia as recognised
by international law

Asia (Region 6)

Afghanistan

Bangladesh

Bhutan

Cambodia

China

DPR Korea

India

Indonesia

Laos

Malaysia

Maldives

Mongolia

Myanmar

Nepal

Pakistan

Philippines

Sri Lanka

Thailand

Vietnam

Central Asia (Region 7)

Kazakhstan

Kyrgyzstan

Tajikistan

Turkmenistan

Uzbekistan

Latin America (Region 8)

Argentina

Bolivia

Brazil

Colombia

Costa Rica

Cuba

Ecuador

El Salvador

Guatemala

Honduras

Mexico

Nicaragua

Panama

Paraguay

Peru

Venezuela

Region 9

Iran

Irak
Yemen

Region 10

South Africa

ACP (Region 11)

Angola

Antigua

Barbuda

Bahamas

Barbados

Belize

Benin

Botswana

Burkina Faso

Burundi
Cameroon

Cape Verde

Central African Republic

Chad

Comoros

Congo

Congo – Democratic

Republic of the

Cook Islands

Djibouti

Dominica Dominican Republic

Equatorial Guinea

Eritrea
Ethiopia

Fiji

Gabon

Gambia

Ghana

Grenada

Guinea

Guinea-Bissau

Guyana

Haiti

Republic of
Côte d'Ivoire,

Jamaica

.

Kenya

Kiribati

Lesotho

Liberia

Madagascar

Malawi

Mali

Marshall Islands

Mauritania

Mauritius

Micronesia- Federated States of

Mozambique

Namibia

Nauru

Niger

Nigeria

Niue

Palau

Papua New Guinea

Rwanda

Kenya

Kiribati

Lesotho

Liberia

Madagascar

Malawi

Mali

Marshall Islands

Mauritania

Mauritius

Micronesia- Federated States of

Mozambique

Namibia

Nauru

Niger

Nigeria

Niue

Palau

Papua New Guinea

Rwanda

Saint Kitts And Nevis

Saint Lucia

Saint Vincent And The
Grenadines

Samoa

Sao Tome and Principe

Senegal

Seychelles

Sierra Leone

Solomon Islands,
Somalia

South Sudan

Sudan

Suriname

Eswatini

Timor Leste – Democratic Republic of

Tanzania

Togo

Tonga

Trinidad and Tobago

Tuvalu

Uganda

Vanuatu

Zambia

Zimbabwe

Other Industrialised countries (Region 13)

Australia

Brunei

Canada

Chile

Hong Kong

Japan

(Republic of) Korea

Macao

New Zealand

Singapore

Taiwan

United States of America

Uruguay

Region 14

Faroe Islands
Switzerland