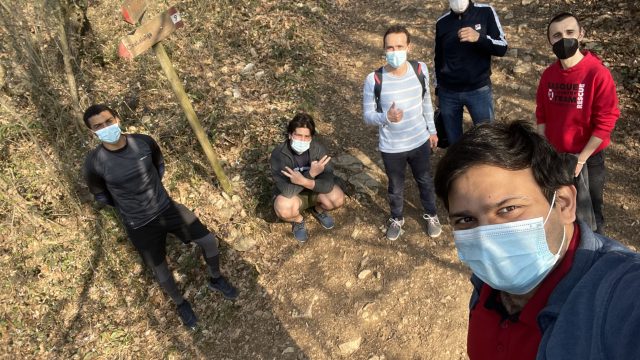 « I strongly believe that these outdoor activities make a strong bond between professors and students »
Mountain Hiking in Brescia
« At the Università Degli Studi di Brescia, Professors are more concerned to know the difficulties and challenges faced by students. In general, Professors will have normal meetings with students to know the progress of work. But in Brescia, professors have a different strategy and great hospitality, especially towards EMIMEO students.
During my thesis at the Università Degli Studi di Brescia, Prof Dr Costantino De Angelis and our EMIMEO Project Manager Frederic Fabre organized a half-day mountain hiking to Monte Margherita with students as a team-building activity. There are several mountain hiking spots in Brescia for refreshments like Monte Maddalena, Monte Margherita etc. It was my first experience to travel with a professor which I cannot forget in my life. We successfully reached the top of the mountain with little breaks. We travelled around 12kms in 5 hours.
Our journey with Prof Costantino De Angelis and Project Manager Frederic Fabre was amazing. They make us so comfortable being friendly with us. There was a lot of fun and I completely enjoyed the hike without any stress. During our hike, we had a lot of conversations between us. Professor tried to know the progress & concerns of our work and gave us valuable suggestions to improve our work. Professor shared his experiences with us. Even our Project manager Frederic Fabre asked about the problems and he is so supportive and encouraging us. During this outdoor activity, I felt hours like minutes. I personally enjoyed the day a lot with my friends and professors.
I strongly believe that these outdoor activities make a strong bond between professors and students. Professors can understand the student's circumstances and progress in studies and work. Students also can show better progress in work with an encouraging spirit. I would like to personally thank Professor Costantino De Angelis and Project Manager Frederic Fabre for organizing such activities. »
Sravan Kumar Reddy Vuyyuru – EMIMEO student