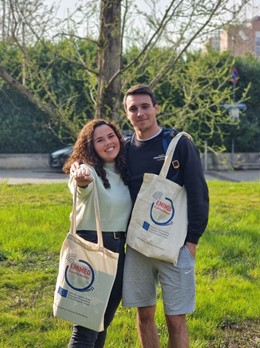 Get to know Alejandro and Carolina, students from the EMIMEO
Get to know Alejandro and Carolina, students from the EMIMEO – Erasmus Master on Innovative Microwave Electronics and Optics.
Firstly, introduce yourselves.
Alejandro: I'm Alejandro Dominguez, from Barcelona, Spain. I'm 24 years old.
Carolina: My name is Carolina Pedrosa, I am 27 years old and I am from Brazil.
How did you discover EMIMEO?
Alejandro: I was having a chat with a childhood friend that studied Telecommunications Engineering with me back in Barcelona, and I told him I wanted to do a Masters's degree in a radar related field abroad. He showed me the Erasmus Mundus Joint Masters Degree catalogue and this is how I got to know the EMIMEO program.
Carolina: I was working in Brazil when I decided it was time to invest in my career internationalization. I did some google research on the Erasmus Mundus website and that's when I found the EMIMEO webpage. It was love at first sight when I read the degree description.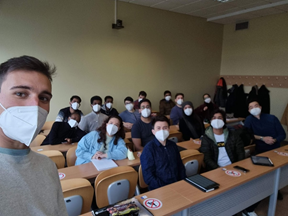 How was the application process?
Alejandro: Honestly, it was pretty straight-forward. I just uploaded all the needed documents and I got the interview. Then, I had a very natural conversation with the professors and fortunately I got accepted.
Carolina: It was a very smooth and quick process, which was relief, once that is only two steps: CV evaluation and interview. The interviewers were gentle and made me feel comfortable.  
What is your degree?
Alejandro: I studied a bachelor`s in Telecommunications technologies and services engineering (Telecommunications systems specialization) at ETSETB school that belongs to the Universitat Politècnica de Catalunya.
Carolina: I have a graduation in Electrical Engineering, with electronics emphasis. In Brazil, our bachelor's has a 5-year duration.
How was the adaptation in Limoges?
Alejandro: To be honest I felt at home because I can speak the local language, which makes things much easier when living abroad. In addition, I live in Catalunya, which is next to France, and I knew a lot about France before moving. Living there was nice! There are some young people and the atmosphere is good!
Carolina: It was fine because I already spoke some french. Getting used to the cold was hard at first, but I was really glad to see snow for the first time. The University of Limoges has a great learning environment and I made a lot of friends.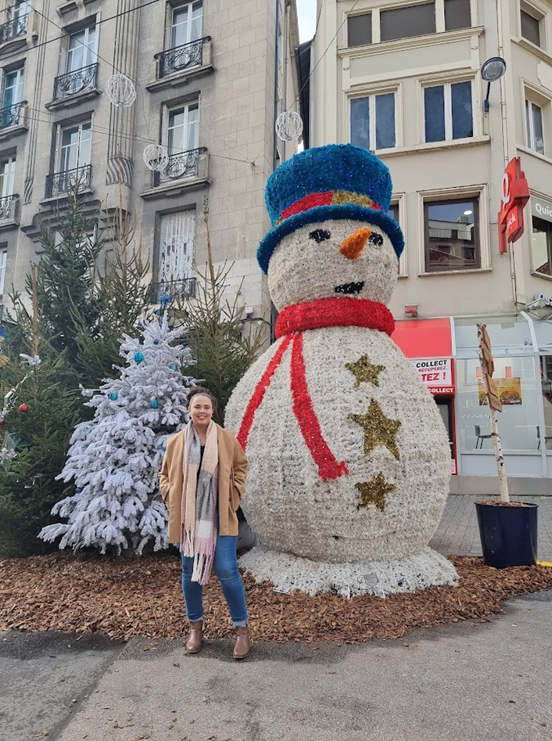 How was the student life in Limoges?
Alejandro: I enjoyed it a lot! I wasn't used to that many class hours, but in my free time, I did a lot of things. I made many new friends from all over the world and we discovered Limoges and other French cities! To be fair, I missed public transport at night, but we could rent bikes for the whole semester to move around the city.
Carolina: The French evaluation system is very different from the one I had in Brazil, but for me, it was an improvement, once that I didn't have to take so many exams and my grades were good, which is directly linked with the positive learning experience. In addition, the photonics and electronics labs were very practical and interesting.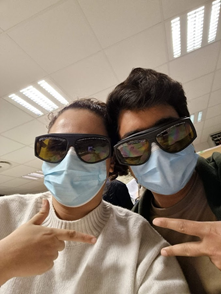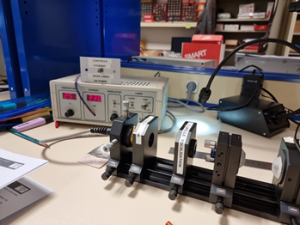 What was your choice for the third semester? Why?
Alejandro: I'm going back to Limoges because I want to become an expert in Radar and Limoges' subjects are the closest to my subject of interest. I chose it as well to improve my French skills, which I find very important.
Carolina: I chose Bilbao (Spain) because my main interest is in RF Systems and Electronics, so it made more sense to me to go to a university that does not focus on photonics and have more hands-on experiences in electronics. Also, the degree from three different universities sounded very appealing to me.
Is the scholarship enough for your expenses?
Alejandro: In Limoges, I could even save some money! I succeeded in managing my expenses properly and it was easy to live comfortably. 
Carolina: Yes! We can live comfortably, travel, eat well and pay rent. In France, it is even better, because we can count on a governmental help on the rent, since we are students.
What is the main challenge of the program? 
Alejandro: Personally, I have two main goals. On the one hand, I want to get the knowledge needed to become a good professional in the Radar field or in other fields that I'm currently discovering throughout this journey. On the other hand, I think it is vital to meet new people who can become really good friends and professors who can show really interesting projects in which one of us can be involved soon.
Carolina: For me, it is to keep up with the classes, once that some of them have a really high level of mathematics and physics. It is necessary to pay a lot of attention in some of the lectures, so we do not get lost. It can also be a big challenge to be separated from your family and culture. Furthermore, you will be an immigrant in different countries, which can lead to cultural clashes.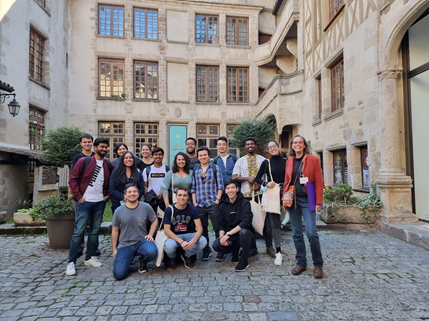 What is your advice for the next intakes?
Alejandro: I think the best advice I can give is don't be shy. Neither when meeting new people nor in class when having doubts. Time flies and it is crucial to make the most of this amazing experience we have been granted! Apart from that, try to be open-minded and learn from every person you meet. This will make you a better person at the end of the day.
Carolina: I would say that you should come with an open mind and an open heart. Some of your classmates will become like family in these two years together and, although the master's degree is the main goal, you will see that the human value is of greater importance, it does no matter where you are from. Here you will be given the opportunity to shatter inner prejudices, break stereotypes, value your own culture more and not fear the difference, but rather appreciate it. Hopefully, after the EMIMEO you will not only have an amazing degree, but also a gentler heart.