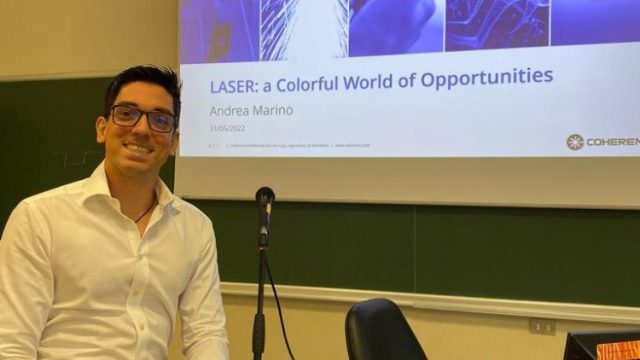 Seminars related to Photonics & Electronics
EMIMEO has organised a series of seminars related to photonics, telecommunication & electronics. It has been organised in person or online.
Tuesday 31 May 2022
Dr Andrea Marino,  engineer at Coherent. « LASER: a Colourful World of Opportunities »
Thursday 02 June 2022

Meylis Malikov, former EMIMEO student and now Engineer at Ericsson gave his testimony about his job activities.

Thursday 09 June 2022
Tania Nesr, former EMIMEO student and now Microwave Electronic IC Design Engineer at UMS gave her testimony about her job act.
Tuesday 28 June 2022 from 16:00 to 18:00
Dr Marco Romagnoli from Photonic Networks & Technologies National Lab of Italian CNIT and Scuola Superiore Sant'Anna Pisa performed a presentation on silicon photonics and industrial perspectives of photonics integrated circuits.

Wednesday 29 June 2022
Sébastien Vergnole from Alphanov interacted with you.