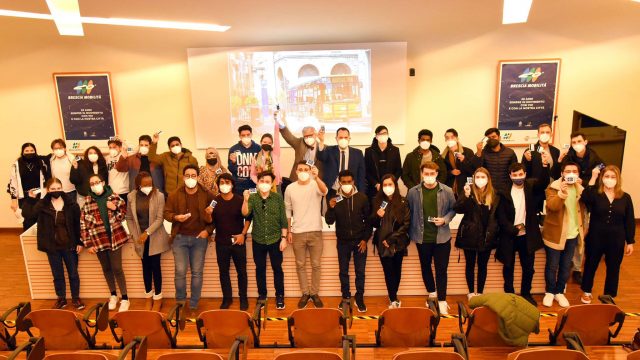 Start of the second semester at the University of Brescia
The lectures at the University of Brescia (Italy) started on Monday 21 February 2022. The students have to follow the following courses until June 2022 before the exam sessions.
Mandatory courses.
Antennas (6 ECTS)
Microwave Engineering (6 ECTS)
Optical Communication Components (6 ECTS)
Optical Communication Networks (3 ECTS)
To Pick and choose
Nanophotonics (3 ECTS)
Practical Chemistry for Nanotechnology (3 ECTS)
Wireless Systems Laboratory (3 ECTS)
Photonics (6 ECTS)
The University of Brescia organised an Erasmus+ Welcome Day where the EMIMEO students were invited to meet with institutional & professors from the university. It was also an opportunity to meet with other Erasmus students.
Thanks to a collaboration with Brescia Mobility, we offer a free pass to use public transportation in Brescia.