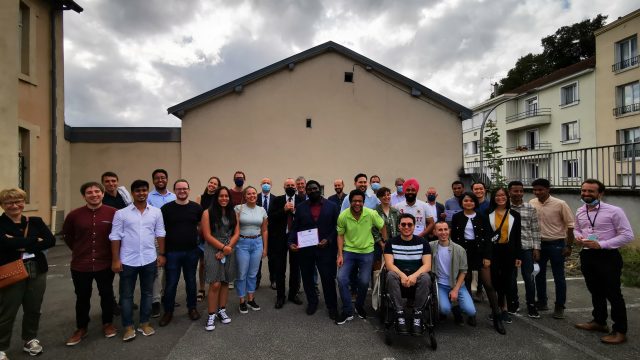 EMIMEO Graduation Ceremony
The first EMIMEO graduation ceremony was held on Friday 03 September 2021. The representatives of EMIMEO and the University of Limoges were invited to give a few words about the project and their thoughts related to the EMIMEO Master course.
Then, the EMIMEO representatives gave the diplomas to the students who were able to attend the event in Limoges. In the end, Lunchtime was an opportunity for networking and the student from the different intakes had the possibility to exchange together.
The agenda of the ceremony was scheduled as follows:
11:00 – 11:10 : Isabelle Klock-Fontanille President of the University of Limoges
11:10 – 11:15 : Eric Rouvellac Vice-President – Committee on Education and University Life
11:15 – 11:20 : Laurent Bourdier Vice-President – Committee on International Strategy
11:20 – 11:25 : Damien Sauveron Dean of the Faculty of Science and Technology
11:25 – 11:30 : Raphaël Jamier Director of the Physics Department
11:30 – 11:35 : Stéphane Bila Director of XLIM Laboratory
11:35 – 11:40 : Denis Barataud EMIMEO Coordinator
11:40 – 11:45 : Costantino De Angelis EMIMEO Coordinator at UNIBS
11:45 – 11:50 : Juan Mari Collantes EMIMEO Coordinator at UPV/EHU
11:50 – 12:30 : Frederic Fabre – Alessandro Tonello Graduation Ceremony with the 1st intake students
Project Manager – EMIMEO Coordinator (Photos – Diploma – Student Thanks – Goodies)
12:30 – …. Lunch / Buffet