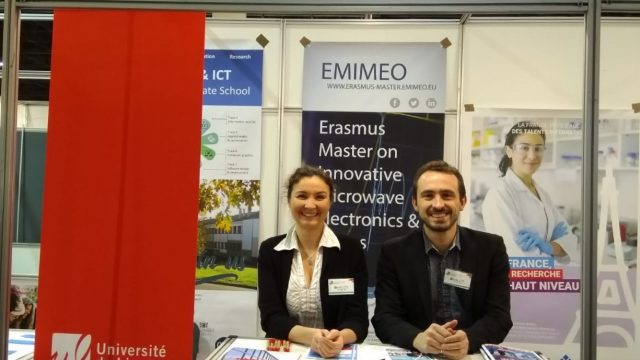 Participation in 20th EDUCATIO International Education Expo (Budapest-Hungary)
Frédéric Fabre, project manager of the Master Erasmus Mundus EMIMEO and Céline Parvy, manager of EUR TACTIC, took part in the 20th edition of Educatio 2020, the International Education Fair, organised in Budapest from 9 to 11 January 2020.
Context
This annual trade fair attracts nearly 200 exhibitors. It was the first time that the University of Limoges participated.
Statistics published by HÖOK, the organiser of this event, confirm the participation of 55,000 visitors during the three days of the fair. Campus France estimates that 4500 people visited the France Pavilion.
All French institutions were grouped around CampusFrance under the « France Pavilion ». The following were present:
– IUT Lyon 1
– INSA Rouen
– ESMOD Paris
– Auchan
– Brittany Sky
– Science Po Dijon
– ESSCA School of Management.
Our aims
The objective is twofold:
– to make known the new courses of the EUR and the EMIMEO master's degree for student recruitment purposes,
– meet with other potential institutional partners.