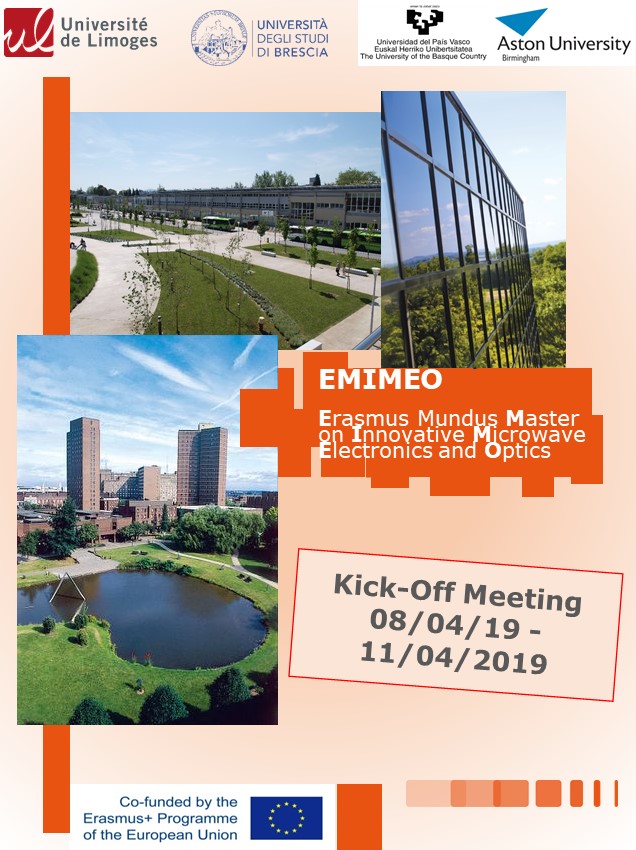 The Kick-off Meeting was held in Limoges from Monday 08 April 2018 to Wednesday 10 April 2019 and it was held by the University of Limoges leading organisation.
The meeting gathered representatives from all the project's partners:
Brescia University (Italy), the University of the Basque Country (Spain), Aston University and Limoges University.
The partners took this opportunity to work together on the administrative, logistic and pedagogical implementation of the master's degree. During the kick-off meeting, the partners'representatives met some of the associated partners. One main activity was to foster the visibility of the project with the University's staff.
In those scopes, two working sessions were organized. The following topics were discussed:
– a legal agreement between partners
– student agreement
– student handbook
– website development
– others project matters.
The assessment committee took the opportunity to have a face-to-face meeting to refine its strategy for the selection of the students of the EMIMEO's Intake 1. Juries of two people each were set up to conduct the interviews via online tools.
The project management team organized an official ceremony at the Faculty of Sciences and Technologies to introduce the project to the staff as well as associated partners have been invited at the ceremony.
On Thursday afternoon, a workshop with the partners and some associated partners was organised with the attendance of committee members. The participants were discussing the composition, the roles a,d objectives of the Committee.